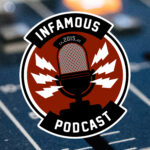 Virtual Mirror, Mirror On the Wall… AHHHHHH!!!
This week on the show Johnny and Brian are talking about season 4 of Black Mirror. They are rating the episodes from worst to best, so make sure to send us your list of the best and the worst of Black Mirror Season 4!
News Bites
Hemsworth Done with the MCU, but wants MORE!
TV Show Pick Ups (Runaways, Future Man, The Gifted, The Orville)
New Black Panther Preview
Black Mirror Season 4

(2017)

USS Callister (Johnny 8/10, Brian 8.5/10)
A woman wakes up on a Star Trek-esque spaceship where the crew praises their all-knowing and fearless captain, who has used DNA scans to simulate real people within his game.

Arkangel (Johnny 6/10, Brian 5/10)
After nearly losing her daughter, a mother invests in a new technology that allows her to keep track of her child.

Crocodile (Johnny 5/10, Brian 3/10)
A woman's past comes back to haunt her while an insurance adjuster questions people about an accident with a memory machine.

Hang the DJ (Johnny 7/10, Brian 9/10)
A new dating app allows the matched couples to be told how long their relationships will last.

Metalhead (Johnny 3/10, Brian 6/10) 
A woman attempts to survive in a dangerous land full of robotic guard-dogs.

Black Museum (Johnny 9/10, Brian 8/10)
A woman enters a museum where the proprietor tells her stories relating to the artifacts.
New Comics This Week – Sponsored by comiXology

Johnny
BLOODSHOT SALVATION #5
NINJAK VS VU #1
OLD MAN HAWKEYE #1
PORT OF EARTH #3
SLOTS #4
STAR WARS ADV FORCES OF DESTINY REY
STAR WARS DARTH VADER #10
Brian
ACTION COMICS #995
CABLE #153 LEG
DETECTIVE COMICS #972
OLD MAN HAWKEYE #1
PHOENIX RESURRECTION RETURN JEAN GREY #3
STAR WARS ADV FORCES OF DESTINY REY
STAR WARS DARTH VADER #10
X-MEN BLUE #19 LEG
X-MEN GOLD ANNUAL #1 LEG
Contact Us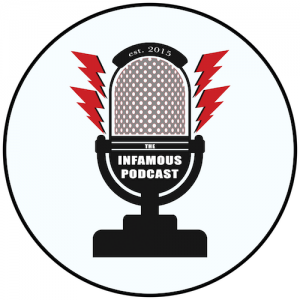 The Infamous Podcast can be found wherever podcasts are found on the Interwebs, feel free to subscribe and follow along on social media. And don't be shy about helping out the show with a 5-star review on Apple Podcasts to help us move up in the ratings.
@infamouspodcast
facebook/infamouspodcast
instagram/infamouspodcast
stitcher
Apple Podcasts
Google Play
contact@infamouspodcast.com
The music in this episodes is Moose from Bensound.com. The Infamous Podcast is Johnny Pottorf and Brian Tudor and is produced and edited by Brian Tudor.

Subscribe today!