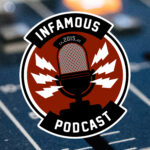 Don't Float us Yet!
This week on the show Johnny is off on vacation, so Brian is joined by fan favorite guest host David Griffin! In this episode David & Brian are going to be talking about one of their favorite shows currently on air… The 100.
They will be taking a look at seasons 1 – 3 leading into the season 3 finale.
Quick News Bites

That Game of Thrones episode!
Iron Man 3's big bad villain we didn't get to see?
DC Comics has a new logo… yawn!
DC Films, too little too late?
What Makes The 100 Great
Bravest show currently on TV
Mix of young/experienced actors
Crazy great production for a CW Show
Case study for why shows don't need more than 13-14 episodes per season
Diverse cast (race and LGBT)
13 episode 1st season; 16 episodes for season 2&3
Based on: 'The 100' by Kass Morgan
Cast & Crew
Developed by: Jason Rothenberg
Starring

Eliza Taylor
Paige Turco
Thomas McDonell
Eli Goree
Bob Morley
Marie Avgeropoulos
Kelly Hu 
Christopher Larkin
Devon Bostick
Isaiah Washington
Henry Ian Cusick
Lindsey Morgan
Ricky Whittle
Richard Harmon
New Comics This Week:
Johnny
ASTRO CITY #35
CIVIL WAR II #0 RCW2
FUTURE QUEST #1
HAUNTED MANSION #3
INVINCIBLE #128
JUDGE DREDD (ONGOING) #5
LUCIFER #6 (MR)
MAE #1
MANIFEST DESTINY #19
RAI #13
SPIDER-WOMAN #7
STAR TREK MANIFEST DESTINY #3
X-O MANOWAR ANNUAL 2016 #1
Brian
ASTONISHING ANT-MAN #8
CIVIL WAR II #0
DRIFTER #11 CVR A KLEIN
FUTURE QUEST #1
INTERNATIONAL IRON MAN #3
INVINCIBLE #128
JUGHEAD #6
MIGHTY ZODIAC #2
ROBIN SON OF BATMAN #12
STAR-LORD #7
TITANS HUNT #8
David
SUPERMAN AMERICAN ALIEN #7
Contact Us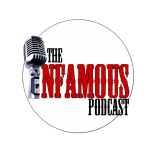 The Infamous Podcast can be found wherever podcasts are found on the Interwebs, feel free to subscribe and follow along on social media. And don't be shy about helping out the show with a 5 star review on iTunes to help us move up in the ratings.
@infamouspodcast
facebook/infamouspodcast
stitcher
iTunes
contact@infamouspodcast.com
The music in this episodes is Pomade by Silent Partner. The Infamous Podcast is Johnny Pottorf and Brian Tudor, and is produced and edited by Brian Tudor.

Subscribe today!