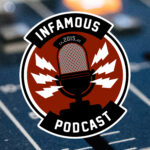 Hell Yeah, I'll Accept this Mission!
This week on the podcast Johnny and Brian are talking about Ruby Rose as Batwoman, Captain Picard's new adventures, Dave Bautista taking a stand in support of James Gunn, and Mission: Impossible (all of them)!
Ruby Rose is Batwoman
CBS Announces a New Captain Picard Series
Dave Bautista supports James Gunn
Mission: Impossible – Fallout (2018)
Summary
Two years after the capture of Solomon Lane,[N 1] the remains of his organization The Syndicate have reformed into a terrorist group known as The Apostles. Ethan Hunt receives details of a mission to intercept the sale of three plutonium cores to members of the group, who are acquiring them for their latest client, fundamentalist John Lark whilst at a safe house in Belfast. The mission takes him to Berlin where he meets Benji Dunn and Luther Stickell, but the mission fails when Ethan chooses to save Luther's life and the plutonium is taken by the Apostles. The team captures and interrogates a nuclear weapons expert, Nils Debruuk, who has been working with the group to build three portable nuclear weapons and obtain information on the Apostles' next move.
Cast & Crew
Directed by
Christopher McQuarrie
Produced by
Tom Cruise
Christopher McQuarrie
Jake Myers
J. J. Abrams
Written by
Christopher McQuarrie
Based on
Mission: Impossible by
Bruce Geller
Music by
Lorne Balfe
Cinematography
Rob Hardy
Edited by
Eddie Hamilton
Production Company
Skydance Media
TC Productions
Bad Robot Productions
Distributed by
Paramount Pictures
Release date
July 27, 2018 (United States)
Running time
147 minutes
Budget
$178 million
U.S. Box office
$359.7 million(as of recording)
Starring
Tom Cruise as Ethan Hunt
Henry Cavill as August Walker
Ving Rhames as Luther Stickell
Simon Pegg as Benjamin "Benji" Dunn
Rebecca Ferguson as Ilsa Faust
Sean Harris as Solomon Lane
Angela Bassett as Erica Sloane
Michelle Monaghan as Julia Meade
Alec Baldwin as Alan Hunley
Vanessa Kirby as Alanna Mitsopolis/White Widow
Frederick Schmidt as Zola
Kristoffer Joner as Nils Debruuk
New Comics This Week – Sponsored by comiXology

Johnny
EXILES #6
FANTASTIC FOUR #1
OBLIVION SONG BY KIRKMAN & DE FELICI #6
OUTPOST ZERO #2
PORT OF EARTH #8
PREDATOR HUNTERS II #1
SANDMAN UNIVERSE #1
STAR WARS DARTH VADER #19
VOLTRON LEGENDARY DEFENDER VOL 3 #2
Brian
AMAZING SPIDER-MAN #3
DETECTIVE COMICS #986
FANTASTIC FOUR #1
OBLIVION SONG BY KIRKMAN & DE FELICI #6
OPTIMUS PRIME #22
STAR WARS DARTH VADER #19
VOLTRON LEGENDARY DEFENDER VOL 3 #2
X-MEN BLUE #33
Contact Us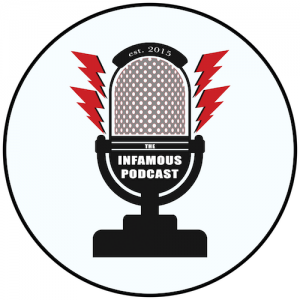 The Infamous Podcast can be found wherever podcasts are found on the Interwebs, feel free to subscribe and follow along on social media. And don't be shy about helping out the show with a 5-star review on Apple Podcasts to help us move up in the ratings.
@infamouspodcast
facebook/infamouspodcast
instagram/infamouspodcast
stitcher
Apple Podcasts
Google Play
contact@infamouspodcast.com
The music in this episodes is Moose from Bensound.com. The Infamous Podcast is Johnny Pottorf and Brian Tudor and is produced and edited by Brian Tudor.

Subscribe today!